The organization of Miss Universe Thailand hosted the grand coronation ceremony of Miss Universe Thailand 2020 at the True Icon Hall (ICONSIAM) in Bangkok where Amanda Obdam was crowned Miss Universe Thailand 2020 at the end of the event finale. Miss Universe Thailand 2019 Paweensuda Drouin crowned her successor and she will now represent Thailand at Miss Universe 2020 stage.
Amanda is 27-years-old and stands 170 cm tall is a graduate from the University of Toronto, Canada with a degree in Business Administration and Economics. She started her career as a model in 2011 under SuperRed Modelling and has worked with big brands including Sunsilk, School, PhaoHom etc. She has earned titles of Miss Grand Phuket 2016, Miss Grand Rising Star 2016 and Miss Tourism Metropolitan International 2016 which makes her experienced in the fashion and pageant industry. She has also been featured in two series on Channel 7.
Miss Universe Thailand 2020 Amanda Obdam's court includes:
First Runner-up: Veena Praveenar Singh
Second Runner-up: Polfah Punika Kulsoontornrut
Third Runner-up: Preaw Praewwanich Ruangthong
Fourth Runner-up: Cindy Alexandra Haenggi
On her audition day, Amanda had mentioned that she never thought of being a beauty queen while she was growing up but then she understood the importance of beauty pageant and the platform it provides to inspire others. She is a Mental Health Advocate and want to use the platform to educate and raise awareness regarding the same. She is very proud of how far she has come and on World Mental Health Day, she explained during her opening speech at Miss Universe Thailand 2020 that she is ready to help the ones in need.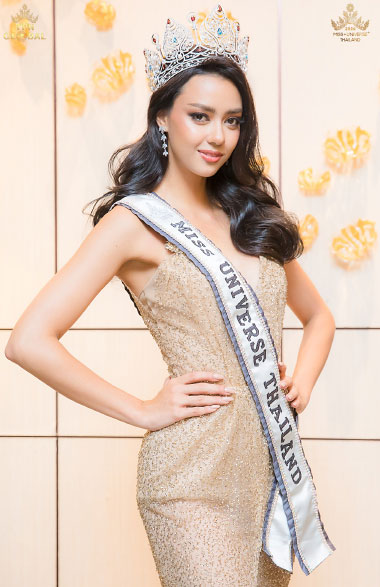 Amanda has performed exceptionally well throughout the competition winning some special awards along the way. She has given a tough competition to everyone and finally won the crown and an opportunity to represent Thailand at Miss universe 2020 stage. Her confidence, and winning attitude makes her one of the strongest contenders who can give a tough competition at Miss Universe 2020 stage as well.
During the Top 5 Q&A segments, Amanda was asked, "In a hundred years from today, who would have a chance to become an influential woman in the 21st century?" She replied, "All women have a chance to become because 'we' are very strong and powerful."
During the Top 3 Q&A, all ladies were asked, "If you become the new Miss Universe Thailand, in what way would you represent herself as an icon of Thailand?"
To this Amanda replied that even though she is half Thai-Canadian, she is truly a Thai lady, and will present all of her Thainess within herself to the world, noted the NBT report.
As winner of the prestigious pageant, Amanda received a cash prize of B1 million, a Honda Civic car, as well as a fully-furnished condominium. She will also represent Thailand at the 69th Miss Universe 2020.
Hopes run high that Amanda will become the third Thai to be crowned Miss Universe, following Porntip Nakhirunkanok from Bangkok winning the title in 1988. Apasra Hongsakula, from Bangkok, was the first Thai to win the crown, in 1965. She was 18 years old at the time.
Some special awards of Miss Universe Thailand 2020 are:
Popular Choice Award - Vena Praveenar Singh
Miss Perfect Skin - Vena Praveenar Singh
Speech Wildcard - Amanda Obdam
Miss Prissana - Amanda Obdam
Portrait Wildcard - Praewwanich Ruangthong
Miss Real Beauty Real You - Polfah Punika Kulsoontornrut
Swimsuit Wildcard - Polfah Punika Kulsoontornrut
Amanda has shared, "I feel so grateful for this whole journey and everyone who came along with me. I didn't think that by believing in myself, so many would believe in me too. Thank you everyone."
Congratulations queens!