Tiffany's has always had a touch of magic. Under the flurry of feathers and the flash of sequins, the beautiful performers of the famous Pattaya cabaret have spent 42 years using illusion and sleight of hand (not to mention lip-synching) to enthral audiences. But never before has the show had a genuine magician. Joe Labero, a Swedish entertainer crowned illusionist of the decade by the Merlin Award Society, is performing at Tiffany's for the next three months. Not only is Labero bringing the tricks he has honed over a 25-year career to the Pattaya stage, he will incorporate the much-loved transgender performers into his act as his assistants. They will appear from clear glass boxes and volunteer to be cut in half.
Joe Labero discussed his opportunity to be a part of this history-in-the-making event with Tiffany's, "To join Tiffany's Show Pattaya and produce a show together is a challenging task that I'm looking for. The hardest and most challenging part of all this is how I can create my own magic show while blending in perfectly with cabaret show by Tiffany's. To find a balance between the two is challenging and fun in and of itself. And I think I found the way to balance it. I'm beyond excited to bring that show to Thai audiences. What I have prepared for my show combining with the fantastic production, from costume, sound, and lighting to stage management, by Tiffany's is what will truly amaze and impress everyone who come to see this show."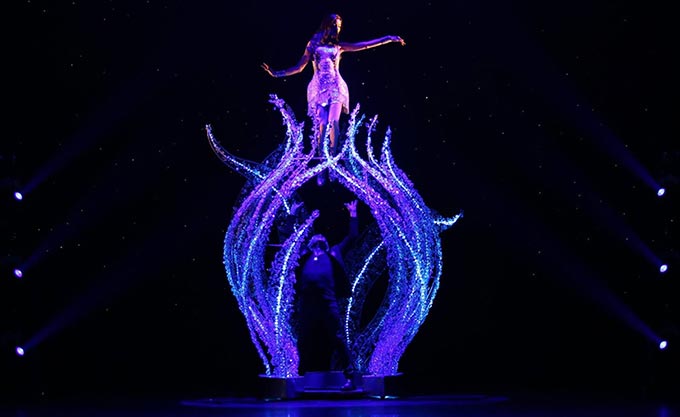 The world premiere of the show wowed the audience with the presence of Joe Labero who appeared on stage in the midst of the smoke thanks to the magic of the Smoke Chamber technique. He then used his magic to "fly in" the Tiffany's Show Pattaya's performers. One by one, his magic trick was unveiled while dazzling shows by Tiffany's heightened up the excitement throughout the 1 hour 40 minute show. The world-class production, the live singing by Napada Sukkrit, the powerful winner of The Winner Is, and the breathtaking collection by Theatre fashion house all made the show very special. Another highlight is "Marcello Ohio", Miss International Queen, also joined Labero in his amazing show. The night was wrapped up with the surely memorable disco-themed finale show.
Jom Sirichai from Theatre fashion house said, "For the first song, "La Vie En Rose", it is a glittering voluminous evening dress. The second song, "I Will Survive", puts together masculine and feminine details, which is signature of Theatre brand. The last one, "Your Disco Needs You", blends Japanese-inspired kimono with bigger volume for more fun when performers need to dance.
"What is really special about creating costume for the show is to tell story the way Theatre does and at the same time make it unique with form and colour that best reflect Tiffany's extravaganza signature. The result is amazing. I have to thank Tiffany's performers who present the costumes perfectly. It's just like working with professional models," added Jom Sirichai.
Alisa Phanthusak, the assistant to Tiffany's managing director, said while the cabaret is the first of its kind in the country, it was keen to hold special events to celebrate its fifth decade. She sat down with the team one day in February to think about what could be done.
Tiffany's changes its show every six months and holds two major events a year -- the Miss Tiffany and Miss Tiffany Universe beauty pageants. But the core of the performance has always been the same, with a beautiful performer lip-synching on stage.
Ms Alisa added a live singing show on weekends, which has succeeded in drawing in stronger crowds and has proven especially popular with Chinese tour groups.
The show with Labero is an idea Tiffany's hopes will attract attention, and bring back those who have already seen the main event.
"Joe Labero is not only a great performer but he is also a thinker who gives us a lot of new and fresh ideas for our show," Ms Alisa said. "He created a way to combine our Tiffany's girls with his show perfectly and the show really has a wow factor to it."
When his three months at Tiffany's are up, Labero's next trick will be a vanishing act as he returns to Europe. But that doesn't mean he won't show up again when we least expect him.
"I hope I can come back to Thailand again and find my own smaller venue for a magic performance," he said.
"I am looking at some locations in Bangkok but there is nothing confirmed yet. I hope I can bring real magic to this country when I come back again next time."
Joe Labero performs Magic in Fantasy at Tiffany's Show Theatre, Pattaya, at 9pm from Tuesdays to Sundays until the end of August. Tickets cost between 1,500 and 3,000 baht and are available at www.tiffany-show.co.th or Thai Ticket Major.
Below you can watch the promo video for this great event.